Post by Roku-kun on Feb 22, 2008 17:29:59 GMT -5
Full Name:
Ketsueki, Rokuro
Nickname:
Roku
Age:
19
Gender:
Male
Height:
5'11"
Weight:
172 lbs
Rank:
Jounin
Village:
Kirigakure ~ Hidden Mist Village
Birthday:
August 16th
Bloodline Limit:
Chimanako ~ (Bloodshot Eyes)
Appearance: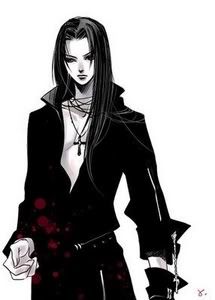 For starters, Rokuro has always been told that he's had a baby face, that he'd always have a gentle expression no matter what he was going through at the time. He's a very emotional person and doesn't try to hide his feelings from anyone who takes it upon themselves to ask. If he's happy, you'll know it, and the same goes for when he is down. Roku rarely cuts his hair, but when he does, he only takes off whatever is hanging below his pecs at the time.
His wardrobe is based solely on comfort, consisting of black pants, black boot-like sandals that trek up the ankles, an open chest black shirt, and a single glove on his left hand. He wears his Kirigakure headband around his waist as a belt and also has the Hidden Mist insignia stitched into his glove. He only wears his flak jacket during serious missions, when he is required to bring all his ninja equipment. Roku's build is somewhere between a swimmers body and average, meaning he has muscles built for efficiency instead of show.
---
Fears:
Dying slowly
Hobbies:
Jutsu Research, Hiking
Personality:
Rokuro is a level-headed ninja who's intelligence, calm nature and quick learning has seen him successfully through the ninja academy and life thus far. His love for the ninja way is overshadowed only by his love for his friends and village, both of which he'd give his life for in an instant. Kind, outgoing and good-humored at heart but ruthless and without mercy on the battlefield, Roku has the makings of a best friend or worst enemy.
Rokuro will accept any mission given to him with pride and strives to meet every goal as best as he can. On the battlefield, he is the first person on and the last one off. Valuing teamwork and cooperation above all else, Roku believes a team must be more than just comrades but rather they must be like family.
In his spare time, Rokuro can be found wondering the streets with his hands in pocket and his head to the sky. He enjoys long hikes, jutsu research, and the occasional hand to hand sparring at the training grounds. Lately, he has devoted his time to stopping some of the younger children that he passes in the street and going over basic ninjutsu with them.
Relatives:
Parents: Ketsueki Hiroko (
Deceased)
, Ketsueki Ayame
Siblings: N/A
Relatives: Ketsueki Heeda
(Uncle, Mother's Side- Deceased)History:
Born on August 16th in the Village Hidden in the Mist, Ketsueki Rokuro was the only child of Ayame and Hiroko Ketsueki. Like most children are in their early years, Rokuro was completely oblivious about most things that his parents considered highly important. Some number of years before his enrollment into the ninja academy, Roku began to take in some of the facts around him, such as his father being a Hidden Mist Shinobi Hunter and his Uncle's skill at manufacturing and using weapons. It was at this time that his father and mother began to teach him the basics, what a ninja is all about.
His future was full of potential, Rokuro proved to be a quick learner when he fully applied himself and a rather intelligent child overall. His time with his father was short lived, to say the least, as his father was killed during a mission to recover a lost body. It was the first time Roku had dealings with death, and it hit him hard.
Ketsueki Heeda, Ayame's older brother, gradually began to step into his nephews life to fill the void that had been created after his father's death. He was the first person to say good bye when Roku ran off to the academy, and was often the second person he saw when he came home. Heeda helped Roku learn how to defend himself with a sword, attack with it, and respect his opponent. He helped him learn more about death as well and eased the pain he felt inside.
Inside the Ninja Academy, Rokuro's training during the day, studying during the night, and overall dedication quickly saw him to the top of his class where he was called a "genius" by the other students. Instead of being conceited and letting the praise get to his head, Roku began to devote what time he had between his training and studies to making friends in the academy and sharing the advice his family gave him with others. Soon he was surrounded by friends, each of whom he studied and trained with.
The time came at 10 years old for Rokuro Ketsueki to take the graduation exam, he had grown into a fine gennin in the works and felt as though he could handle any test the slapped down in front of him. The practice of one on one battles to the death had already been abolished due to the actions of Momochi Zabuza, so the graduation exam was simply a one on one battle against an academy instructor to see what the students were capable of on the field. Rokuro was among the first to take and pass the test.
Roku had been taught to value his team and always think of them as family from day one, but when the time came for him to take on missions with his gennin squad he failed miserably. Rokuro couldn't relate to his sensei enough to learn from him and could get along well enough with his teammates to carry out tasks successfully. He was too used to being a one man show. Although he knew he had to work with others, he wasn't exactly sure how just yet. Life as a gennin was just too different from the academy for him to handle. Ketsueki Heeda began to think that his nephew had been passed on too early and wanted to pull Roku off of his team for more teaching. He told Ayame that the average shinobi graduates at 12 years old, so it would be okay for Roku to wait another 2 years. Hearing this sparked a sort of change in Roku immediately, as he became more passive and considerate of others. The timing for such a thing was right on time to say the least, as yet another tragic event was right around the corner.
Just before the arrival of the chunnin exams, Rokuro was informed that his uncle died in the line of duty days ago, the exact causes being unknown at the time. It only seemed fitting that Roku take his sword for his own, and so he did in memory of Ketsueki Heeda. At first, it looked like the death of both his father figures would causes Roku to give up on the way of the ninja for good. They thought he would fall into depression and take up a civilians life of sorrow and regret. This wasn't even close to the truth though, as Roku suddenly began to exert himself to the fullest in everything he did. He realized now that neither his father nor his uncle would want him to quit now. They'd want him to keep going all the way to the top and give them something to smile about in heaven. The chunnin exams would hard, no doubt about that, but Rokuro was more then ready for them.
Although he wasn't the one to win the chunnin exam tournament that year, Rokuro was promoted to Chunnin rank for displaying exceptional skill and battle prowess . Over the next couple of years, Rokuro would begin to look more into medical jutsu then other things. Best Medical ninja take an oath against killing before entering their practice, he never sought to become one. However, Roku has successfully reached the Jounin level after taking on a number of missions and teaching himself some new jutsu. He has yet to become ANBU black ops.
---
Jutsu List:-All academy level jutsu-
Mizu Bushin no Jutsu ~ (Water Clone Technique)
Kirigakure no Jutsu ~ (Hidden Mist Technique)
Shushin no Jutsu ~ (Body Flicker Technique)
Kawarimi no Jutsu ~ (Change of Body Stance Technique)
Chakra no Mesu ~ (Chakra Scalpel)
Hien ~ (Flying Swallow)
Hishou Washi ~ (Soaring Eagle)
Shousen no Jutsu ~ (Mystical Hand Technique)
Soushuuha ~ (Manipulate Advancing Blades)
Mizu no Muchi ~ (Whip of Water)
Magen • Kamihito no Jutsu ~ (Demonic Illusion • Paper Man Technique)
Magen • Narakumi no Jutsu ~ (Demonic Illusion • Hell Viewing Technique)
Nehan Shouja no Jutsu ~ (Temple of Nirvana Technique)
Suiton: Goshokuzame ~ (Water Release: Five Sharks Eating)
Suiton: Suijenhiki ~ (Water Release: Water Encampment Wall)
Suiton: Suishouha ~ (Water Release: Water Collision Destruction)
Suiton: Suikoudan no Jutsu ~ (Water Release: Water Shark Projectile Technique)
Suiton: Mizuame Nabara no Jutsu ~ (Water Release: Starch Capture Field Technique)
Suiton: Enkou Henkan Sakuryaku ~ (Water Release: Flammable Conversion Tactic)
Suiton: Mizurappa ~ (Water Release: Violent Water Wave)
Suiton: Hahonryuu ~ (Water Release: Destruction Torrent)
Suiton: Suijou Inkyube-Shon ~ (Water Release: Aquatic Incubation)
Katon: Quokka ~ (Fire Release: Head Mincing Pain)
Katon: Haisekishou ~(Fire Release: Burning Ash Accumulation)
Katon: Housenka no Jutsu ~ (Fire Release: Mythical Fire Phoenix Technique)
Katon: Karyuu Endan ~ (Fire Release: Fire Dragon Flame Projectile)
Katon: Gouryuuka no Jutsu ~ (Great Dragon Fire Technique)
Katon: Kousenchitai no Jutsu ~ (Fire Release: War Zone Technique)
Bakuyaku Senbon no Jutsu ~ (Fire Release: Exploding Senbon Technique
Suiton + Katon: Inperiaru Konbi Metsubou no Jutsu ~ (Fire Release and Water Release: Imperial Combination Destruction Technique)
Chakra Affinity:
Suiton, Katon
Other:
Equipment List
-Rokuro's Sword
B.I.N.G.O Book
Shuriken
Kunai
Wire
Soldier Pills and Plasma Pills
Exploding Pouch [/I][/size]